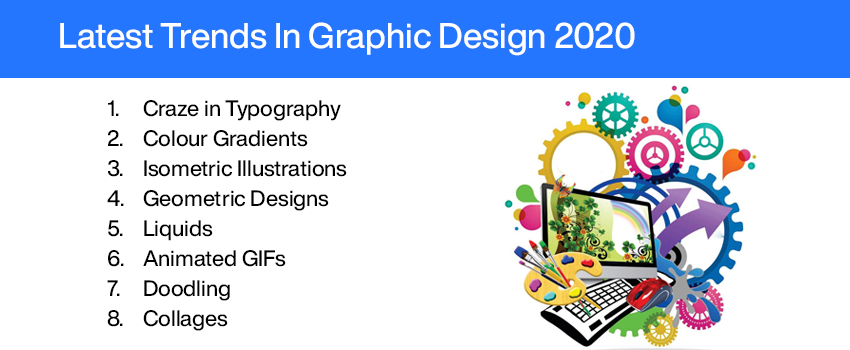 Latest Trends in Graphic Design 2020
A Picture is worth a thousand words. Its true as a picture attracts the audience more than just text. What a single picture can convey may possibly take a number of text paragraphs. This is the reason why the world has jumped on so much to the pictorial wave. Every year we see new trends in the field of graphics either as enhancements to some existing feature, or as some new features being added, or even a new graphic technology coming into existence. The current year 2020 is no different. We can have a number of new trends coming up in this year as well. DesignLabz is the one stop shop when it comes to designing. Recently, DesignLabz came up with some of these trends that are going to be liked by every designer.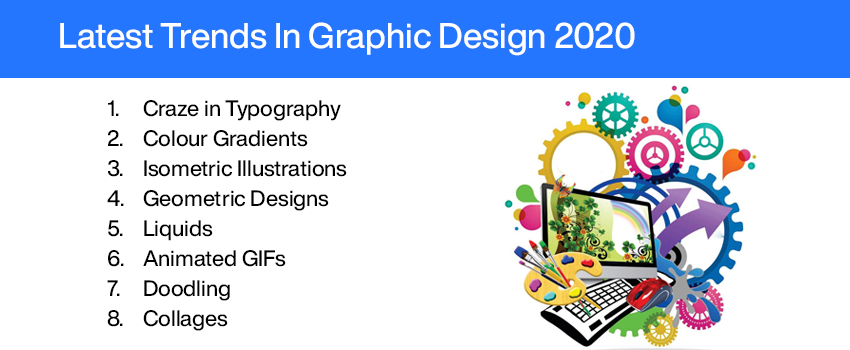 1. Craze in Typography:
Designers are bringing in a new type of graphic design using typography. Decorated with beautiful flowers, geometric forms and more imaginative elements, elegant typography is undoubtedly the best way to get the spotlight nailed. Combined with the maxi typography trend of the 2019 graphic design trends, the artistic typography will be bound to stand out in 2020. The trend in Maxi typography has definitely proven to be a positive one, and we will continue to see it. In fact, maxi typography will be so maxi in 2020 that designers must split the terms into several sections. In case of thickness, thicker is always better. The field of graphic design is now overflowing with heavy font and lettering. We're seeing them in badges, banners, site designs and even packages.
2. Colour Gradients:
Gradients have been used in background images at the most. However, we might find a better use of these colour gradients. To add a bit of depth and texture, they can be added to simple images, used as filters and even used in complex graphics.
3. Isometric Illustrations:
sometric images have been in trend for many years, and they have undergone many transformations. Their ability to depict a 3-dimensional object on a 2-dimensional surface also makes them a popular style for infographic design, web design, and presentation design in 2020. This year we might see a lot of animation and Isometric designs are quite capable of evolving into fully animated graphics.
4. Geometric Designs:
Everyone involved in graphic design and illustration can predict that everything boils down to simple geometric shapes. As most of the designers strive for simplicity in their design, the use of simple geometric shapes remains one of the leading trends in the 2020. Geometric designs may seem easy but require a lot of work to recreate a composition that has the right significance.
5. Liquids:
This is another trend that is here to stay. While geometric designs have a fixed shape, Liquids are trendy because of their ability to move. This brings in more creativity. Leaving the edges out helps to achieve a smooth, relaxed look that many designers would like to recreate. As such, they certainly turn into trends in graphic design in 2020, mostly combined with other features such as semi-transparency, bright colors and gradients of colour, animations, etc.
6. Animated GIFs:
Companies will take up more time this year to create exclusive and better developed animation. Instead of making simple images, the choice is often animated ones. Because of the overuse reaction, GIF is as eye catching as a stock picture.
7. Doodling:
What started off as fun is now a concept that has been seriously incorporated into the illustrations we make. A collection of themed graphics and icons made as doodles can be fun and also convey the message whether it is for a business or for an individual. Today, we can find a number of web-sites offering such images for free.
8. Collages:
Although collages are not a new concept and have been there since the last decade or so, this is going to be a trend worth watching in 2020. Designers mixed real-life images with simplistic diagrams that would cover parts of the picture or communicate with the object. They are similar to the doodling phenomenon except for the innovation part with a relatively bigger section dedicated to colleges than the doodle.
Wrapping it Up
Trends in graphic design 2020 are super complex and exciting! We're going to see incredible graphic work with typography in 2020, mesmerizing color variations, a blast from the past with retro-style designs, line art, doodling, and many more beautiful patterns. It is going to be a hard choice to select a specific type of graphic trend we want to use for our projects or apps as there are going to be ample options available to us.