6 Tips to Boost Your e-Commerce Website Sales in 2020
Enter in 2020 with incorporating certain smart tips to increase sales of your eCommerce website. Marketing strategies for online eCommerce businesses are evolving and growing with each passing day. After deep analysis, DesignLabz is presenting a few great tips to increase the sales of your business.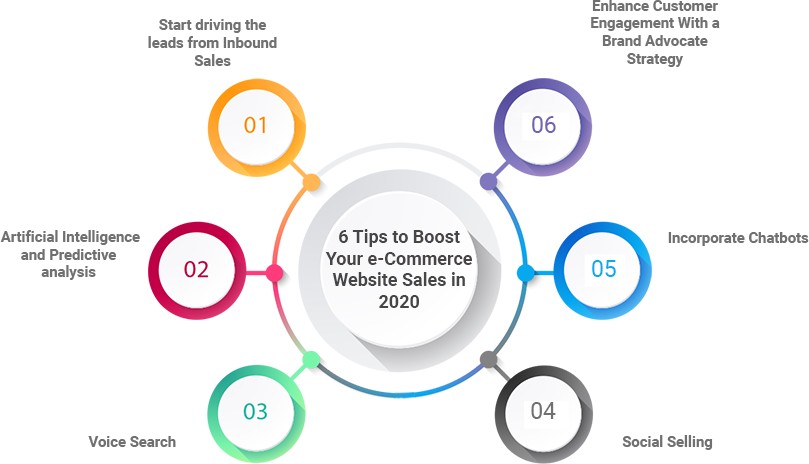 1. Start driving the leads from Inbound Sales
Inbound marketing is where you create a marketing campaign to attract people to your site and they follow through with a purchase or another action. One way in which your wider inbound strategy can be brought to life first is through the creation of content and content marketing like a blog or infographic content. It is not only an uncomplicated way to grow customer relationships but also improves your equity. Not only a blog, but think of your content from a more holistic perspective, how it can conveniently be ordered into new pages or categories of content entirely.
2. Artificial Intelligence and Predictive analysis
Predictive Analytics is an interesting area and most in the fashion eCommerce trend. It incorporates a variety of statistical techniques that analyze current and historical data to generate predictions about future events. Predictive Analytics can present a Marketer and any eCommerce website or brochure website owner with a great deal of power when it comes to automation and predicting a customer's behaviour.
Predictive Analytics can foretell the most useful time to post specific emails to your customers by analyzing relevant data like conversion rates, opening rates and engagement rates. Artificial Intelligence technology can learn an individual's habits and demographics using customer data, a function of AI technology could be to perform what's called 'dynamic personalization. ' Where automated emails are generated with content and subject lines determined entirely through the power of the AI system.
3. Voice Search
With around 95% accuracy rate and huge investments from tech firms into voice-powered technology, it's already fastened itself firmly into the world of technology. The next logical step is to integrate Voice Search into the eCommerce business website content and keywords.
4. Social Selling
The giant social media players are trying to make it easy for brands and putting efforts to keep the trend active. Like on Instagram, there is a "shop now" button, Twitter introducing product pages, Facebook enables brands to use a "buy" button, and even reports are saying about Snapchat building their eCommerce platform. Social trading is appealing for eCommerce sites, and changes are constantly in the growing phase, with some being more successful than others.
5. Incorporate Chatbots
Businesses follow the people, so when the people move to private messaging in their billions, so too do the businesses. Private messaging is enormous, with WhatsApp, Snapchat and Facebook Messenger having large engagement numbers. So the brands take to private messaging with Chatbots, answering questions, offering product recommendations and discounts, and resolving customer queries and complaints. But it's not real people talking to the customers. It's Artificial Intelligence technology simulating real conversation.
6. Enhance Customer Engagement With a Brand Advocate Strategy
If you're a B2B brand, then an employee advocacy focus would make the most sense, but that needs hard-working employees who live and breathe the business. It would be best if you pulled up the advantages and disadvantages of choosing employee advocacy and customer advocacy.